Grace Jones — 1983 VMAs
If there's one thing that model, singer, and actress Grace Jones knows how to do, it's to draw attention when she walks into a room.
At the 1983 VMAs, she brought her signature Avant-garde approach to fashion with this look. The most eye-catching thing about this look — aside from the space-age outline of the outfit — is the ultra-wide hat brim. Rick James even stopped to pose under it at one point!
Madonna — 1990 VMAs
In 1990, when Madonna attended the VMAs, she rocked a look that no one really saw coming from the pop queen at the time. It's one few could forget.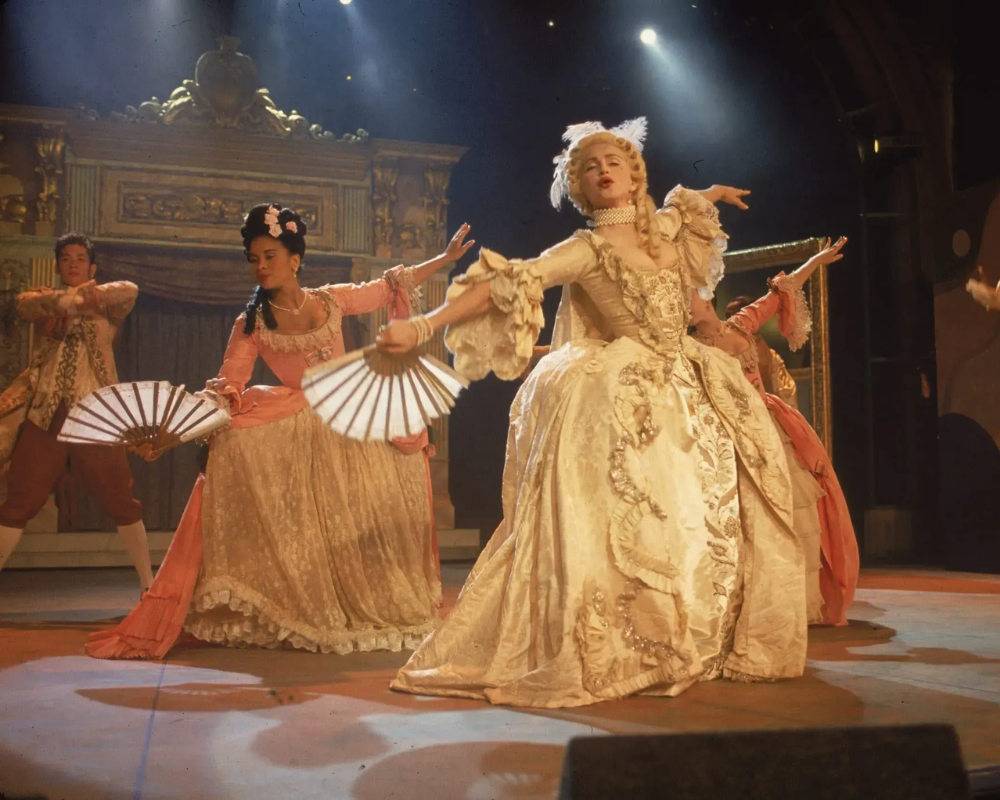 When Madonna came on stage to perform "Vogue", the singer had chosen one of the wildest ensembles of the night that better resembled the French Revolution than the '90s pop scene. Like many performances, Madonna and her coordinated dancers somehow pulled the look off.
Pamela Anderson — 1999 VMAs
Pamela Anderson is well-versed in catching the camera's eye when she hits the red carpet. The 1999 VMAs were no different.
One of her wildest looks from the awards show season relied on a variety of textures and patterns that definitely falls under the "maximalist" approach to fashion. The star wore sequined, patterned pants paired with a white corset and — perhaps the real focal point — an oversized, pink, fluffy hat.
Jennifer Lopez — 2000 Grammys
Awards shows are a great chance to show off the best designer looks on the red carpet. Jennifer Lopez really changed things with this green dress. The star wore the plunging green dress to the 200 Grammys.
If the executive chairman of Google Eric Schmidt is to be believed, we can even thank this dress in part for the existence of Google Images. As for J.Lo herself, she said, "It was a nice dress. I had no idea it was going to become such a big deal."
Pink — 2000 VMAs
Pink has long been noted for her distinct style. Back in 2000, at the VMAs, she went for a colorful look that we're still talking about more than 20 years later.
The star went for an eye-catching hairstyle that lived up to their name and from there, it was all gold and denim. In real early 2000s fashion, she opted for a crop top and a pair of jeans — with the waistband cut off, of course.
Toni Braxton — 2001 Grammys
There are some dresses that are ultimately rather simple but they still stand out for years to follow their appearance. That's what happened with this 2001 Toni Braxton dress.
Attending the Grammys, the singer wore a long white gown designed by Richard Tyler that left little to the imagination. When asked about the iconic dress, Braxton told US Magazine, "I've always gone a little risque with all my other awards [show outfits]. I decided that before I got married and had babies, I'd wear this."
Macy Gray — 2001 VMAs
Musicians release new albums much to their fan's delight all the time. However, the ways they might announce them might be different.
Macy Gray fans following the 2001 VMAs had the chance to see the release date of her then-new album — and all thanks to the dress she wore! The front read "My new album drops Sept. 18th, 2001" while the back demanded fans to "Buy it!" Who could say no to that order?
Britney Spears and Justin Timberlake — 2001 AMAs
Sometimes, our favorite celebrities can take current trends and really make them larger than life. Everyone loved denim in the early 2000s, right?
Still, one of the wildest and most unforgettable outfits is hands-down Justin Timberlake and Britney Spears' matching ensemble — which they wore to the 2001 AMAs. A full-length denim gown alongside a denim suit with a matching Stetson is a look that no one forgot.
Britney Spears — 2001 VMAs
Of course, you don't become an icon like Britney Spears on one outfit alone. She'd attend the VMAs that same year with an iconic accessory.
Stepping on stage to perform her song "Slave 4 U". The outfit was already a great look for Spears but what really made it memorable was the giant snake draped across her shoulders for the duration of the performance! It seems like this is an accessory that would take a lot of upper body strength.
Jonathan Arndt — 2004 CMAs
This snapshot of Martina McBride and Jonathan Arndt really shows how he went with the wildest options in his wardrobe to attend the 2004 CMAs.
The outfit here is made up of pastels but the colors are only part of what makes it so shocking. The brocade jacket and fur collar really tie it all together to shock everyone seeing it. Plus, with all the jewelry and props, who could forget this look?
Eddie Montgomery — 2005 CMAs
Still, we're not so sure that Big Kenny had the wildest outfit at the 2005 CMAs. It seems like Eddie Montgomery was ready to give him a run for his money. At an awards show where we've seen a lot of jeans and suits, this outfit definitely takes the cake.
The long, embroidered coat already stands out for its silhouette but the musical notes, roses, and especially the bold letters reading "Broadway" across the front of the jacket undeniably make a statement.
OK Go — 2007 Grammys
The band OK Go definitely made a visual splash at the 2007 Grammys with some of the wildest outfits of the night. The band kept their faces covered with red fabric and donned matching body suits of red and gold brocade.
They were detailed, just like a regular suit, but also included a hood and matching accessories. One band member later said, "We're dressed in the future — the future dressed us. This is actually us in an hour."
Lady Gaga — 2009 VMAs
If there's one musician that's known for rocking some of the wildest outfits that Hollywood has seen, it's Lady Gaga. She didn't disappoint at the 2009 VMAs. The star started out in what seemed like a rather tame white outfit.
That was until she took to the stage to perform her song "Paparazzi". In a real moment of music meets performance art, Gaga committed to an intense number that left her stumbling on stage soaked in fake blood to finish the song off.
Nicki Minaj — 2010 AMAs
Nicki Minaj has sported some wild looks over the years. However, the outfit she wore to the 2010 VMAs might just be one of the wildest to date.
The coral-colored dress wouldn't stand out too much on its own but Minaj knew exactly what details it needed. Who could look away from a dress with a golden exoskeleton like this? It definitely made for an unforgettable outfit.
Lady Gaga — 2010 Grammys
One of the outfits that Gaga debuted on her 2010 trip to the Grammys was this purple number that looks like it came straight from the future.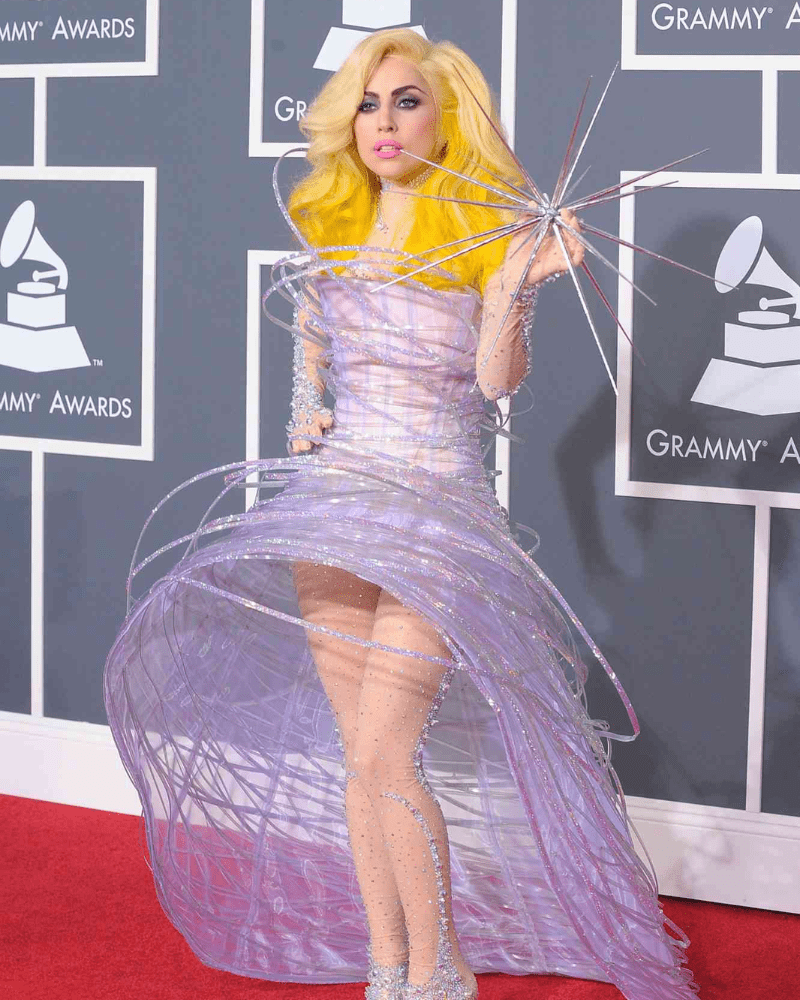 The dress was made by designer Armani Privé and it even came with a sharp accessory. Lady Gaga actually wore this dress before she performed at the show for the very first time. It's not a bad look for a debut at such a massive awards show!
Lady Gaga — 2011 Grammys
If you really want an outfit to stand out, you might want something really wild about it to draw people's attention. Alone, the neutral outfit that Gaga wore isn't too shocking.
The shocking part was how she entered the event. Photographers waiting on the red carpet were greeted with a giant egg carried by a group of people, not the singer. Well, actually, she was just inside the egg, waiting for her chance to emerge. Did you know that she was actually in the egg for about 72 hours?!
Nicki Minaj — 2011 VMAs
To make an outfit the wildest one at an awards show, you really have to think outside of the box. What can you do that hasn't been done before? Nicki Minaj definitely got wild with this silhouette and these fabric choices.
Her upper half is decked out in geometric patterns while the bottom half seems to take inspiration from some more comfortable clothes. Of course, you can't leave home without your stuffed accessories either.
Katy Perry – 2011 VMAs
For the 2011 VMAs, Katy Perry went for a very geometric look. While Katy's no stranger to eccentric outfits, this one was definitely surprising. The dress and top are fun but aren't too shocking on their own.
What really made this look stand out was the choice of headwear for the look. We all know the right hat can bring a look together but we probably wouldn't have thought of this accessory.
Miley Cyrus — 2013 VMAs
After her years at Disney ended, Miley Cyrus really started to take her looks up a notch at awards shows. Some of them have been really shocking!
The bejeweled outfit that she wore at the start of the show was great but didn't necessarily stand out as weird or wild. That came later when she took to the stage in a bear leotard to perform "We Can't Stop". Of course, the giant dancing bears helped with the overall weirdness factor.
Frankie Grande — 2014 AMAs
Ariana Grande has stolen the show at many musical events. At the 2014 AMAs, though, it was brother Frankie Grande that stood out.
This is one outfit that really highlights that sometimes it's what you don't wear that will make you stand out. It doesn't take an eagle eye to see that Grande opted for a painted-on shirt. Like many others on YouTube at the time, Grande didn't skip out on the neon hair either.
Katy Perry and Riff Raff — 2014 VMAs
Earlier, we took a look at Justin Timberlake and Britney Spears' iconic matching denim outfits in the early 2000s. It seems like they weren't the only ones who wanted to rock it either.
For the 2014 VMAs, Katy Perry and Riff Raff decided to pay homage to the famous red carpet look. All in all, they recreated it rather well. It's definitely reworked for their particular styles, though.
Miley Cyrus — 2015 VMAs
Of course, Miley Cyrus wasn't going to get on this list for only one of her VMA looks. She pulled out another creative option for the 2015 VMAs.
She showed up decked out in a pink latex dress complete with balloon accessories reading "Do It" across the front — a nod to one of Cyrus' own songs. Of course, she needed the perfect hair accessories and with so much pink, it seemed a pig bow was appropriate.
Baddie Winkle — 2016 VMAs
Who says that you have to stop donning your wildest looks as you age? That's one myth that it seems that Baddie Winkle has been determined to make.
At the 2016 VMAs, she showed up in a body suit reminiscent of the look Britney Spears wore for part of her music video for "Toxic". Naturally, Baddie Winkle wasn't about to skip out on her accessories either. Even her cane is bedazzled to match the look!
CeeLo Green — 2017 Grammys
CeeLo Green is no stranger to attending awards shows. So, it makes sense that he knew just how to stand out when he donned this look.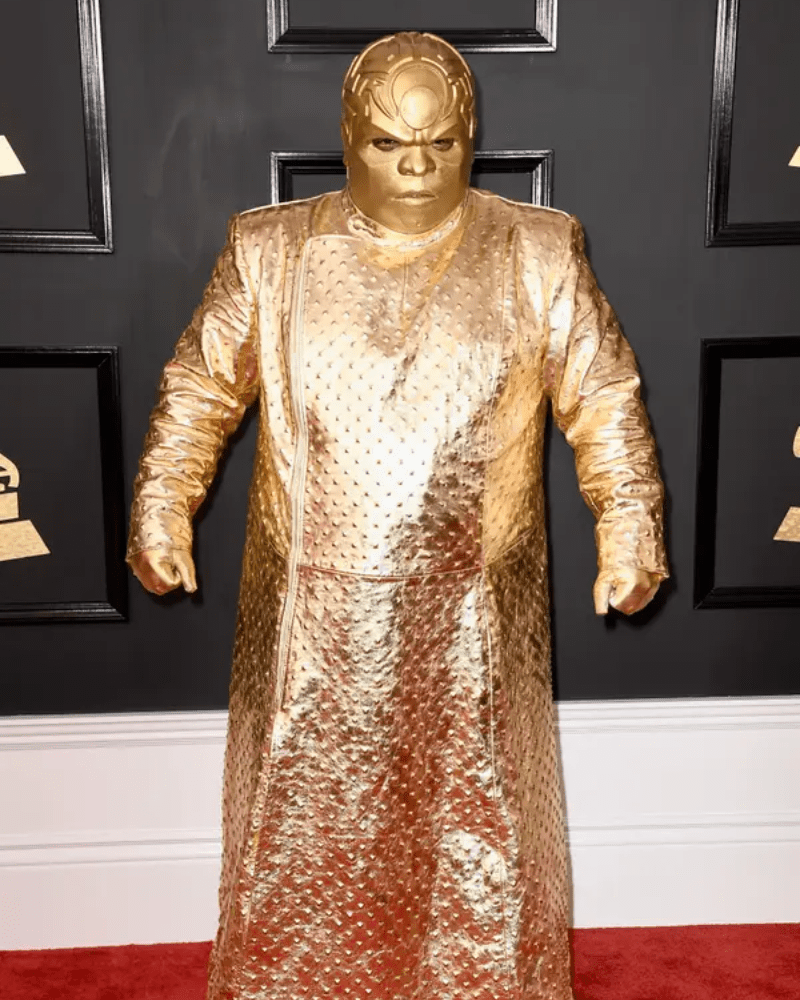 The star showed up to the 2017 Grammys in an outfit that was impossible to miss. He wore gold from head to toe, complete with gold gloves and a gold helmet, so nothing but gold was showing. The memorable look definitely got fans talking.
Cardi B — 2019 Grammys
Cardi B looked her best in this dress that really brings to mind Botecelli's Venus emerging from the sea. There's more than just a silhouette here, though.
The dress was made by Mugler and it has no shortage of pearls and silk to pull the look together. She even has a tower of pearls in her hair! She was dressed to impress — and that she did. In fact, later that night, she became the first woman to win the Grammy for Best Rap Album.
Sophie Turner — 2019 Billboard Music Awards
Sophie Turner skipped the usual gown for a bodysuit at the 2019 Billboard Music Awards. The look was bold and it definitely caught people's eyes.
The getup brought a variety of opinions from critics but a few things made the outfit stand out. For one, the pattern of the silver bodysuit stood out. The silhouette also stood out, thanks to the sharp shoulders hanging a little lower than shoulder pads would.
Billy Porter — 2020 Grammys
Billy Porter knows exactly how to stop the paparazzi with his red carpet looks. The American Horror Story alum had one of his wildest looks for the 2020 Grammys.
For this look, Porter was head to toe in sequins, adding silver tassels on his hat and pants legs. The fringe on the hat was more than just decorative, though. At Porter's command — or his stylist's — the fringe opened to reveal the actor's face.
The Weeknd — 2020 VMAs
There are some looks at the VMAs that really stand out for the effects that go with them. The suit The Weeknd wore to the 2020 VMAs wasn't too shocking.
His makeup, on the other hand, caught people's eyes. After all, it was a pretty realistic rendering of what he might look like after a fight. The look ended up being promotional for his new video and he'd don it again a few more times the next year.
Doja Cat — 2021 VMAs
Doja Cat has often challenged expectations when it comes to fashion. This look really is no different but it surprised many viewers. In 2021, the singer attended the VMAs in this number.
Well, she wore a few different outfits throughout the night but this one was by far the most memorable. She donned this getup onstage while accepting a VMA award, admitting that "I look like a worm. That's done. I never thought I'd be dressed as a worm while accepting an award."
Machine Gun Kelly — 2022 AMAs
More than once, Machine Gun Kelly has made headlines for some outrageous outfits at various events. This one really turned some heads, though.
A purple suit really isn't that shocking at the AMAs. In 2022, Machine Gun Kelly wore this purple suit to the AMAs and it's easy to see why it stood out. If nothing else, it would definitely keep people from getting into your personal space.
Lizzo – 2023 Grammys
Lizzo has skyrocketed to fame and it's easy to see why! The star makes great music and has a charming personality that draws fans in. She made an impression in florals at the 2023 Grammys.
The singer had a two-layered look. The base of the look is an orange gown that's gorgeous in its own right. However, it was the cloak of roses that really made this outfit as memorable as possible.
Harry Styles — 2023 Grammys
There are some stars that need no introduction. At this point, it seems like Harry Styles definitely qualifies as one of these superstars.
The star opted for a multi-colored jumpsuit. It could almost look like a patchwork pattern if all the pieces weren't given a sequined effect to make sure this wild look still catches the light.
Alisha Gaddis — 2023 Grammys
Lizzo wasn't the only one to bring florals to the red carpet at the 2023 Grammys. It was a trend Alisha Gaddis decided to play into as well. Still, the two gowns have a lot of differences.
Compared to Lizzo's more monochromatic look, this colorful piece gives us a variety of flowers. It's a gown that almost brings to mind Florence Pugh's flower-covered look in Midsommar.
Sam Smith — 2023 Grammys
Sam Smith stood out on the red carpet at the 2023 Grammys but they were ready with an entire ensemble look with a few other stars.
In all, they showed up with Kim Petras, Violet Chacki, Gottmik, and more. They led the crew in a red cloak and gloves, complete with a cane and top hat. If that wasn't interesting enough, the top hat featured a veil too.
Shania Twain — 2023 Grammys
There are some stars who just know how to get the camera's attention. Shania Twain definitely did that for the 2023 Grammys.
The singer went for a head-to-toe cow print look. With a massive printed hat and bell-bottom pants, we literally mean from head to toe. Now, would it really be a glam red carpet look if those cow spots weren't sequined?
Blac Chyna — 2023 Grammys
Blac Chyna knows how to work the spotlight but even this look was surprising to many fans. Who could have expected it? The short dress brings to mind images of the Black Swan.
Of course, it seems like Blac Chyna took things to the extreme. Wouldn't it be pretty hard to do ballet in an outfit like this? One thing is for certain — this dress had no shortage of different textures to experiment with.
Dencia — 2023 Grammys
Dencia had another iconic look to bring to the 2023 Grammys. It seems like everyone really brought out their best at this event! Dencia's look was almost the classic black gown.
Instead of a plunging neckline like J.Lo, though, she opted for a high collar encrusted with blue and green jewels. If you look closely, her dress also has black jewels nestled into the fabric as well. The cobra-like dress really captured everyone's attention as she made her way across the red carpet.
Lucky Daye — 2023 Grammys
If you want to wear a black suit to the Grammys, you have to think a bit outside of the box if you want to stand out. Lucky Daye accomplished that. To start, it's not just a black suit.
To catch the lights, there are sequins all over the outfit to make it shine. What really sets it apart, though, is the melting metallic piece to the puzzle that honestly looks a little hard to move around in.
Billy Dean — 2003 CMAs
The CMAs aren't often known for having some of the wildest outfits of the awards season as you might expect at the Grammys or VMAs. Still, that doesn't mean that there aren't any outfits to write home about.
In 2003, Billy Dean took to the carpet in an embroidered suit that no one was going to forget anytime soon. The back featured an embroidered American flag and the rest was decorated with stars and eagles. Very patriotic!
Jeff Bates — 2003 CMAs
It seems like Billy Dean wasn't the only one interested in embroidered jackets when the CMAs rolled around in 2003. Jeff Bates jumped on the bandwagon too, although the design he opted for wasn't quite as patriotic.
Instead, it was an eclectic mix of skulls, vines, roses, dice, cards, and more. From the looks of it, this jacket was definitely an eye-catcher. This is one trend that it seems like everyone loved at the 2003 CMAs.
Big Kenny — 2005 CMAs
In 2005, the CMAs hosted some eccentric looks and outfits. Take a look at this photo, for instance, which features Big Kenny and John Rich.
We could spend some time on John Rich's two-toned denim but it's Big Kenny's outfit that sticks out to us more. It seems almost as likely that he's going to step on stage to give us a production of Les Miserables as he is to accept an award.
Kenny and Christiev Alphin — 2009 CMAs
When you're coming to an awards show as a couple, it opens up a lot of opportunities to come up with the wildest outfit you can think of together.
Just the suit and dress that Kenny and Christiev Alphin chose for their red-carpet look wouldn't have stood out too much. No, what really makes these 2009 CMAs look stand out so much is the matching top hats that really made this so memorable.
Dillon Francis — 2022 Grammys
Usually, when you hit the red carpet, you want to look your best. For most stars, this means breaking out the mind-bogglingly expensive suits and gowns.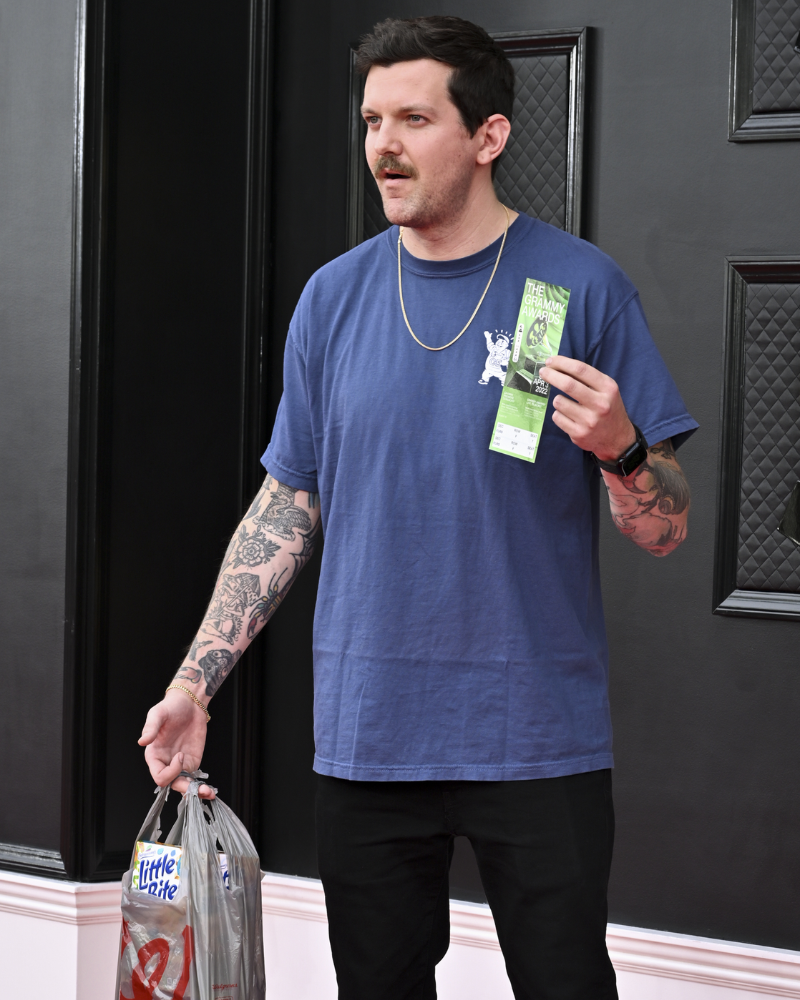 Dillon Francis thought well outside of the box and showed up in something no one was expecting when the 2022 Grammys rolled around. After all, not many people walk the red carpet in jeans and a t-shirt, carrying the snacks they bought from Walgreens on the way.
35+ TV Age Gaps Between Actors That Are Genuinely Shocking
Sasha Pieterse and Shay Mitchell
Let's kick things off with teen mystery drama Pretty Little Liars. In this super popular show, a clique's leader goes missing, and a shady figure named "A" threatens to expose its members. At the time the show first aired in 2010, its lead cast was far from school girls.
Well, Sasha Pieterse was actually 14 years old, so that tracks. However, her castmate Shay Mitchell was actually 23 when season one aired! That's an age gap of nine years for Emison!
Elizabeth Rodriguez and Dascha Polanco
Here's the first of many parent-child relationships with questionable age gaps on this list. In the world of TV and movies, directors understandably cast people based on their skills and appearance. However, this can lead to parent-child depictions that are essentially impossible based on the actors' real-life ages.
In prison dramedy Orange Is the New Black, actress Elizabeth Rodriguez plays Aleida, the mother of Dascha Polanco's Daya. In real life, there's only one year, 11 months, and six days between them.
Elizabeth Olsen and Paul Bettany
Look, we loved miniseries WandaVision as much as the next person, but did you notice the age gap between the titular couple? This happens lots on screen, where older men are paired with younger women and it's presented without comment.
In real life, English actor Paul Bettany is 50 years old, while his on-screen wife Elizabeth Olsen is just 32. This gives them an age gap of 18 years. In real life, Bettany's wife, actress Jennifer Connelly, is also 50.
Kaley Cuoco and Amy Davidson
Now it's time for a set of siblings with inconsistent ages. On sitcom 8 Simple Rules, popular sister Bridget is supposedly older than straight-A younger sister Kerry. However, in real life, actress Kaley Cuoco is six years younger than Amy Davidson.
As is common on TV, these full-grown adults played children that still lived at home. At the time of filming, Kaley Cuoco was 17, while Amy Davidson was 25. This full-grown adult woman didn't even play the younger sister!
Cole Sprouse and Lili Reinhart
OK — actor Cole Sprouse has been a kid on TV way longer than seems possible. Firstly, he played little Ben Geller in Friends, then one of the title characters in The Suite Life of Zack and Cody. In that show, a 16-year-old Sprouse played a high school student.
However, now over a decade later, Cole Sprouse is still playing a teenager on TV! As Jughead on Riverdale, Sprouse is the oldest cast member that's supposed to be a teenager. There are five years between him and Reinhart.
Evangeline Lilly and Matthew Fox
Primetime TV likes a love triangle, and sci-fi mystery drama Lost was no different. As is often the case, the show paired a younger actress with two older men. In real life, we're pretty sure people would address the 10-year age gap between them and their potential partner.
When Lost first started, Evangeline Lily was 25 years old. Her action hero love interest Jack was played by Matthew Fox, who was 38. Meanwhile, cowboy conman Sawyer was played by Josh Holloway, age 35.
Lesley Fera and Troian Bellisario
Sasha Pieterse and Shay Mitchell aren't the only people on the Pretty Little Liars cast to have confusing age gaps. Troian Bellisario, who plays perfectionist Spencer Hastings, was 24 during the show's first season. Yep, that's another 16-year-old on TV played by an adult.
Meanwhile, Spencer's mom, Veronica, is played by Lesley Fera. When the show premiered, Fera was 38, making her just 14 years older than her TV daughter. Hey, we can't say we're all that surprised.
Maitreyi Ramakrishnan and Darren Barnet
In Mindy Kaling's coming of age series Never Have I Ever, Canadian actress Maitreyi Ramakrishnan played Indian-American teenager Devi. Unusually for these shows, Ramakrishnan was actually 17 when she was cast. By the time the series was released, she was 18.
Darren Barnet was 28 when he was first cast as Paxton, and just a year off 30 when the show aired. There was over a 10-year gap then between the actress and her on-screen love interest.
George Lopez and Belita Moreno
When it comes to casting parents, TV shows are more interested in dynamic, star power, and making sure people look related than their ages. This means that we often get parent-child relationships that make no sense. Just take George Lopez as an example.
On the sitcom, George Lopez's mom was played by actress Belita Moreno. In real life, there are just 11 years between the stars, so Benny would have had to be pretty young to give birth to George. Yikes.
Ann Morgan Guilbert and Renée Taylor
In '90s sitcom The Nanny, Jewish fashionista Fran becomes the nanny of three well-to-do children. The show was created by lead actress Fran Drescher and her then-husband, Peter Marc Jacobson, and based on her own life in Queens.
On the show, actress Renée Taylor played Fran's mom, Sylvia Fine. Her mom, Fran's grandmother, was played by Ann Moran Guilbert. In real life, there's just one year between the actresses. Plus, Renée Taylor is the elder of the two!
Mila Kunis and Ashton Kutcher
We know that sitcom stars Mila Kunis and Ashton Kutcher eventually ended up together, but the pair go way, way back. Before Ashton was married to Demi Moore (remember that?), he was a TV actor on That '70s Show.
Young Mila Kunis actually lied about her age to land her role on the show. She was just 14 years old when she auditioned, and 15 when the pilot aired. There are only five years between Kunis and Kutcher, but those five years count when someone is just 14!
Cory Monteith and Chris Colfer
It's time for another teen show that's jam-packed full of adults. Seriously, no one is the appropriate age in Glee, and the kids are all very close in age to their teacher, played by Matthew Morrison.
The most extreme age gap is between Cory Monteith, who played Finn, and Chris Colfer, who played Kurt. These two eventually became brothers, though Cory was 27 when the show first aired, and Chris just 19. Monteith was just two years younger than Morrison, who played Mr. Schuester.
John Cullum and Cynthia Geary
Now, here's a TV age gap for you. Award-winning Canadian comedy-drama Northern Exposure initially followed a New York City doctor who relocated to a remote Alaskan town. The acclaimed show featured Cynthia Geary as Shelly Tambo, a pageant queen who fell for the town's much older mayor.
At the time, Cynthia Geary was 25 years old, and John Cullum was 60. That's right — that's a real-life age gap of 35 years. In the show, it was even larger!
Ted Knight and Georgia Engel
The Mary Tyler Moore Show was pioneering for its depiction of an independent, working woman. But, that doesn't mean the show didn't rely on the old trick of using an older actor paired with a younger actress.
On the show, Ted Knight, who played Ted Baxter, felt that his character was too one-note, and in need of a wife. The wife, in this case, was Georgette — played by Georgia Engel. In real life, these two had an age gap of 25 years.
Miley Cyrus and Jason Earles
Next up is a bizarre age gap that surely could have been avoided! In Disney series Hannah Montana, Jason Earles plays Miley Cyrus' brother. At the time, the future pop star was a tender 13 years old, while Earles was 28. That's right, that's an age gap of 15 years!
Of course, Jason Earles' advanced age also made him close in age to his on-screen parents. There's a 16-year gap between him and Billy Ray Cyrus, and a 12-year gap between him and Brooke Shields.
Moira Kelly and Chad Michael Murray
Naturally, teen drama One Tree Hill was also jam-packed full of adults playing high schoolers. One of the show's main characters, Lucas, was played by Chad Michael Murray, who was 22 when the series began.
Lucas' mom is played by Moira Kelly, who is just 14 years older than her on-screen son. In the show, Karen is a single mom who had Lucas when she was just a teen. This partly explains the small age gap between the two, but it's still too small!
Tom Welling and Kristin Kreuk
Hilariously, actor Tom Welling was 24 years old when he played 14-year-old Clark Kent in Smallville. And look, Tom Welling simply does not look 14. However, the showrunners felt Welling had the handsomeness and stature to be Superman, so they overlooked his slightly advanced years.
Tom Welling's castmate, Kristen Kreuk, was just 18 at the time of filming. By using actors that are slightly older than their characters, TV shows don't need to stop for actual study breaks!
Leann Hunley and Joshua Jackson
Many TV shows have storylines that feature a teacher and a student in a romantic relationship. In literally every case this is problematic, mainly because teachers are supposed to educate and look out for their students. Also, those students are minors.
In Dawson's Creek, everyone is famously older than their teenage character is supposed to be. Joshua Jackson was 20 when he filmed this storyline, while Leann Hunley was 43. Now, Jackson is 43, and Hunley is 66.
Tom Selleck and Courteney Cox
Apparently, Tom Selleck was only supposed to make a brief appearance in sitcom Friends. However, because of his and Courteney Cox's chemistry, they kept the seasoned actor around. This led to an on-screen relationship with a pretty hefty age gap.
There are 19 years between these actors in real life, and their on-screen counterparts also came from different generations. In fact, Selleck's character Richard knew Monica when she was a baby, and was friends with her parents. Now, that's all kinds of wrong.
Trina McGee and Rider Strong
Sitcom Boy Meets World aired from 1993 to 2000, and followed the life of Cory Matthews. On the show, Rider Strong played Shawn, Cory's best friend, and Trina McGee played Angela, Shawn's love interest. When McGee joined the cast in season five, she was already 28 years old. That's only two years off 30!
Meanwhile, Rider Strong was just 17 at the time, so over a decade younger than his on-screen crush. This relationship was pretty culturally significant, particularly because an interracial couple was still uncommon on TV.
Robert Bathurst and Laura Carmichael
Period drama is another place where age gaps are pretty common. Think about it — there are always crusty, withered men paired with radiant lively ladies, and never the opposite. In Downton Abbey, there's a 26-year age gap between characters Lady Edith and Sir Anthony.
In real life, there are almost 30 years between the couple. English actor Robert Bathurst was 53 during filming, while English actress Laura Carmichael was just 24. Unlike some others on this list, the couple does address their age gap in the series.
Estelle Getty and Bea Arthur
It's time for another on-screen parent-child relationship that wouldn't work in real life. In The Golden Girls, Estelle Getty played Sophia Petrillo, the mother of Bea Arthur's Dorothy Zbornak. To play the part, actress, and comedian Estelle Getty spent 45 minutes in hair and makeup so she could look 20 years older than her real age.
Interestingly, there's only one year between these actresses in real life. Even more interesting is that Estelle Getty is actually the younger of the two.
Johnny Galecki and Kaley Cuoco
In The Big Bang Theory, we're led to believe that the gang is all more or less the same age. However, that isn't strictly true in real life. Johnny Galecki, who plays Leonard, was 32 when the sitcom started, while Kaley Cuoco was just 22. Perhaps that's why Penny doesn't get any of the gang's pop-culture references!
The other cast members are closer in age to Johnny Galecki. Jim Parsons, who plays Sheldon, was 35 when the show started, while Kunal Nayyar and Simon Helberg were both 26.
Kelly Rowan and Benjamin McKenzie
There are various reasons teen shows don't cast real teenagers. For one, you don't have to stop shooting for school work when your actors are adults. Secondly, older actors have more experience, and are more likely to get the job done efficiently and professionally.
Perhaps that's why 25-year-old Benjamin McKenzie was cast as a teenager in The O.C. His TV mom, Kelly Rowan, was 38 when the show first aired, making her only 13 years older than her supposed son.
Christian Serratos and Michael Cudlitz
On post-apocalyptic horror series The Walking Dead, Abrasita emerges as a couple in both the TV series and the comics. Of course, Abrasita is the couple name for Abraham Ford and Rosita Espinosa, played by Michael Cudlitz and Christian Serratos.
In real life, American actress Christian Serrato was 24 when she started working on the series. Her on-screen other half, Michael Cudlitz, was 50. This works out as a real-life age gap of 26 years. We know it's the end of the world, but still…
Barrett Doss and Brett Tucker
Grey's Anatomy spin-off Station 19, set in a Seattle fire station, premiered in 2018. In the show, Barrett Doss plays the energetic and tough Victoria Hughes, part of the fire-fighting team at Station 19. When the show premiered, Doss was 29 years old.
One of Vic's love interests in the early seasons of the drama was Fire Chief Lucas Ripley. The brooding man in charge was played by Australian actor Brett Tucker, who was 46 at the time of filming. That's 17 years!
KJ Apa and Ashleigh Murray
We're back to teen drama Riverdale for another couple with a sizeable age gap. The show, which premiered in 2017, follows Archie Andrews in the small town of Riverdale. New Zealand actor KJ Apa stars as the high school football player, and was 20 when the series started.
One of Archie's love interests is Josie McCoy, played by American actress Ashleigh Murray. When she first appeared on the show, she was 29 — over a decade older than her co-star.
Justin Chambers and Camilla Luddington
We're back to the Grey's Anatomy universe for another couple with an unmentioned age gap. While Jo Wilson and Alex Karev initially bond over their troubled pasts, the medical drama never acknowledges the generational difference between them. Well, except that she's a resident and he's an attending.
In real life, actors Justin Chambers and Camilla Luddington have 14 years between them. While we might still think of Karev as a baby surgeon, he's actually a man in his 50s!
David Schwimmer and Alexandra Holden
Ok, our next two entries definitely do acknowledge their age gaps. In the Friends episode, "The One Where Ross Dates a student," paleontology professor Ross Gellar goes on a date with his student, Elizabeth. On the show, there were 12 years between this couple.
In real life, there's a decade between David Schwimmer and Alexandra Holden. Of course, the whole point of Elizabeth as a character was her taboo relationship with the uptight Ross. After five episodes, she was gone!
Jennifer Aniston and Bruce Willis
We couldn't talk about Ross and Elizabeth without giving a shout-out to Rachel and Elizabeth's dad. In the episode, "The One Where Ross Meets Elizabeth's Dad," Rachel Green also comes upon the dashing dad, played by movie star Bruce Willis.
Apparently, Bruce Willis lost a bet with Matthew Perry, leading to this guest spot. In fact, Willis did the three-episode arc for free. In real life, there are 14 years between the Die Hard star and Jennifer Aniston.
Alexis Bledel and Keiko Agena
When Japanese-American actress Keiko Agena was cast in the Gilmore Girls, she was already much older than her on-screen character. At 27 years old, Agena was to play Lane Kim, the Korean-American best friend of Rory Gilmore. At the time, castmate Alexis Bledel was just 19.
This means that Lane and Rory had a real-life age gap of eight years. Plus, after seven years of the series, Keiko Agena was 34 by the time the show wrapped! Looking good, Lane!
Charisma Carpenter and Robia Scott
And right away here's another actress that was 27 when she was cast to play a high school student. Well, Charisma Carpenter was technically 26, but she was almost 27! In supernatural drama Buffy the Vampire Slayer, Carpenter plays Cordelia Chase, a popular student at Sunnydale High.
One of the teachers at Sunnydale High is Jenny Calendar, played by Robia Scott. Going by their real-life ages, these two have only a 16-day age gap between them.
Ed O'Neill and Sofía Vergara
The age gap between Ed O'Neill and Sofía Vergara's characters on Modern Family is maybe the most well-known of all. In the series, Jay Pritchett is married to the much younger Gloria Delgado, a beautiful Colombian immigrant. The show regularly makes reference to the couple's large age gap, and what others see as their attractiveness gap.
In real life, Ed O'Neill is 26 years older than Sofía Vergara. When the mockumentary sitcom first premiered, O'Neill was 63 years old, while Vergara was 37.
Liza Weil and Michael York
We return to Stars Hollow for our last surprising on-screen age gap. It's another of those awful teacher-student situations, so brace yourselves. This time we have Paris Geller, played by American actress Liza Weil, and Asher Fleming, played by English actor Michael York.
When these two get together at Yale, Paris was around 18 years old, and Asher 60! In real life, York was 61 years old, and Weil was 26. That's a fictional gap of 42 years, and a real-life gap of 35.